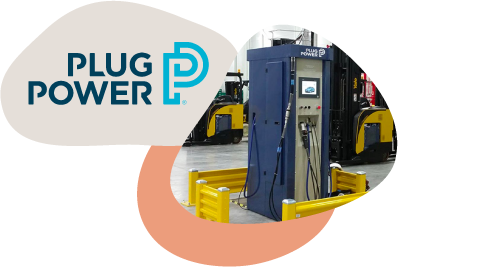 Building the Clean Hydrogen Economy
Plug Power
Plug Power is a well-established leader in the hydrogen economy, and serves a number of high growth markets including supply chain and logistics, on-road electric vehicles, and stationary power. The company not only deploys fuel cell systems for its partners, but also builds and operates world class hydrogen infrastructure—from the production of hydrogen fuel to the construction of fueling stations, and everything in between. 
The Challenge
With people, enterprises, and governments all working toward a greener future, recent years have seen the emergence of myriad technologies designed to enable the clean energy transition, some more effective than others. Our goal was to promote the value of hydrogen (more specifically, green hydrogen) relative to other clean energy sources, and to solidify Plug Power's position at the forefront of the clean hydrogen energy economy—communicating its category leadership to enterprise customers and the institutional investor communities alike.
The Formula
The Bulleit Group began working with Plug Power in April of 2019, and in just under a year, was able to leverage Plug Power's steady stream of corporate-level announcements—primarily product-, customer-, and finance-focused—to provide consistent fodder for media engagement. This, in concert with creative story angles, has translated to dozens of media hits per quarter. The communications team collectively leveraged earned and sponsored event opportunities to further Plug Power's industry presence, with a robust content program supporting those efforts through owned and earned channels. 
Media Relations
+
Content
+
Events
The Results
The Bulleit Group has worked with Plug Power to better leverage its blue chip customers—including DHL, Amazon, Home Depot, and GM—to uplevel its media presence, elevating Plug Power above its competitors with extensive media coverage that has consistently highlighted the value proposition for hydrogen within the supply chain, as well as in on-road and stationary power applications. Plug Power's stock has been resilient, viewed in an increasingly bullish fashion by investors, thanks in no small part to savvy business decisions amplified through a variety of shrewd and effective PR tactics. 
25%
increase in media hits quarter over quarter
40+
pieces of content published