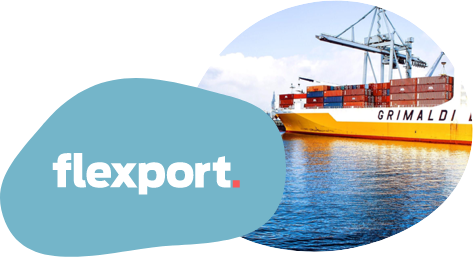 Flexport.
Newsjacking Amazon
Flexport is a technology- and data-driven freight forwarder and customs broker. Freight forwarding is a notoriously outdated industry, one that conjures up images of old ships, shady ports, and black box pricing. Flexport's solutions, which make supply chains more efficient with sophisticated software and data insights, bring freight forwarding into the present day.
The Challenge
Flexport approached The Bulleit Group in 2015, before dozens of copy-cat logistics startups entered the market, to help raise brand awareness and build a thought leadership platform that would allow the company to stand out from its incumbent competitors and catalyze conversations about the traditional, broken processes hurting the industry. 
The Formula
Because, at the time, Flexport lacked a consistent pipeline of announcements, we focused on targeted and aggressive proactive media outreach to highlight the company's combination of old-school freight forwarding industry expertise and cutting-edge technology. We wanted to highlight the tension between the old, ineffective industry standards and the new Flexport-way of doing things—in fact, we secured a feature article in TechCrunch where Flexport was called the "unsexiest trillion-dollar startup." We worked to insert Flexport into various news cycles and position Flexport's CEO Ryan Petersen as an expert on the changing world of logistics. 
Our First Big Break
We saw a media opportunity when Flexport's team noticed a filing made by Amazon China to become a licensed freight forwarder, adding a new layer of complexity to the e-commerce giant's supply chain. Flexport broke the news on their company blog, a strategic move to build an audience, while we pitched interviews to business and trade outlets. The news and Flexport's commentary were a huge hit and garnered a ton of coverage for the fledgling startup.
Riding the Wave
We continued to foster relationships between Flexport's executives and a group of friendly journalists, and Flexport quickly became a trusted source of industry commentary (especially about Amazon's freight initiatives) for journalists at outlets like Bloomberg, The New York Times, The Wall Street Journal, and USA Today. We also maintained a regular cadence of coverage in trade press by sharing Flexport's data insights.
When President Trump first proposed tariffs on China, we saw another opportunity for Flexport to add to the conversation and help educate a confused public about the tariffs' potential effects on American supply chains and goods. We followed the formula we used to newsjack Amazon and secured interest from several top broadcast news outlets. CEO Ryan Petersen appeared on Bloomberg News and CNBC several times to discuss the trade war and Flexport published data insights on the company blog, which were then referenced across trade, business, and tech media.
Media
+
Content
The Results
When the news of Amazon China's filing broke, we had secured 25 articles in top-tier business and logistics publications including Bloomberg, Business Insider, Forbes, Fortune, The New York Times, Wall Street Journal, USA Today, Quartz, TechCrunch, The Seattle Times, and more. Over the course of several years, we've broken countless other news with Flexport, including three major funding rounds. Between 2015, when we first began working with Flexport, and the end of 2018, we've secured over 700 pieces of coverage in top-tier media including CNBC, Bloomberg, NPR, WIRED and many more.
Today, Flexport is a logistics unicorn valued at $3.2 billion. We continue to work with Flexport to support the growth of various business divisions. 
25
articles from Amazon scoop